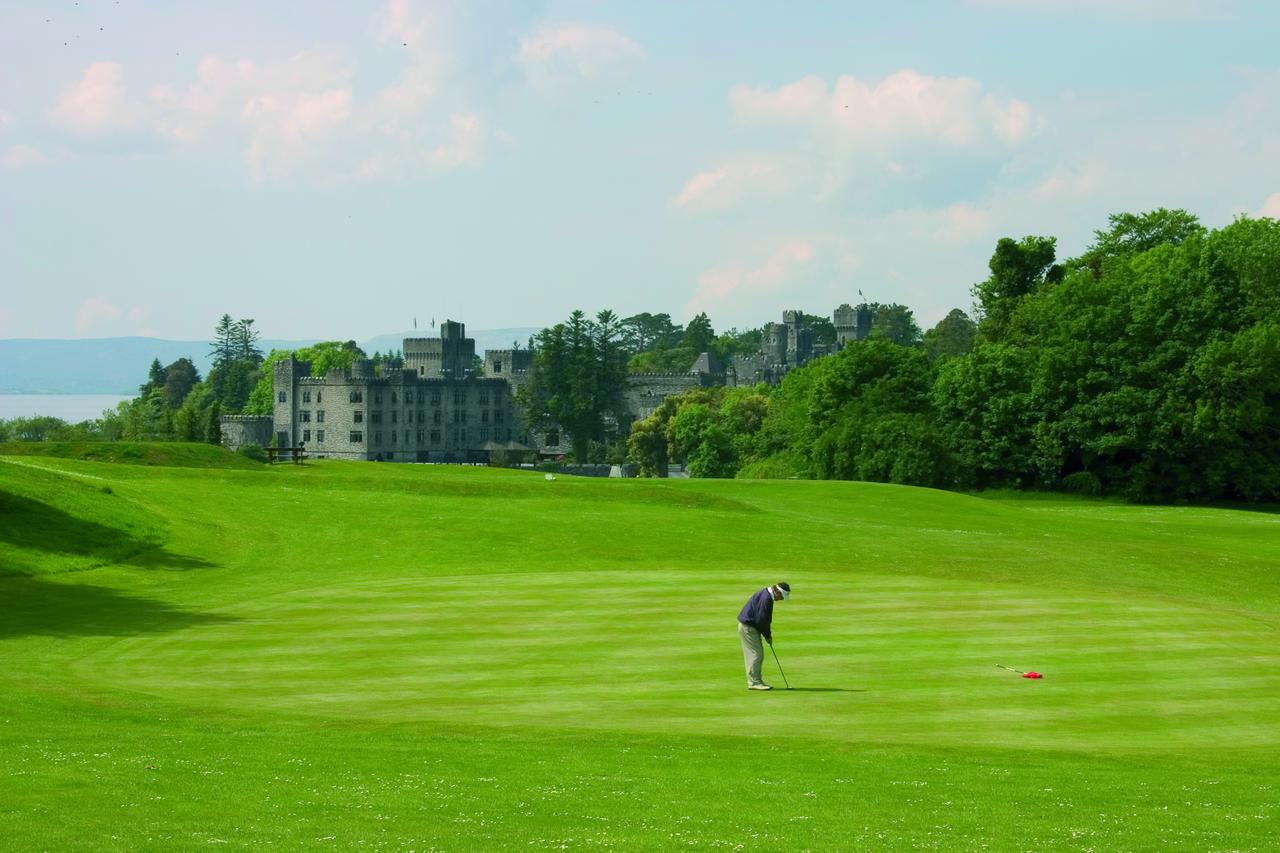 10 Top-Rated Golf hotels in Oberstaufen: Hotel Johanneshof, Hotel Tyrol, Haubers Naturresort Gutshof, Hotel Bayerischer Hof, Hotel Adler, Concordia Vitalhotel & SPA, Hotel Hirsch, Allgäu Sonne, Lindner Parkhotel & Spa Oberstaufen, Dein Engel
1. Hotel Johanneshof
Buflings 1, 87534 Oberstaufen, Germany
Overall Ratings
9.1 based on 197 reviews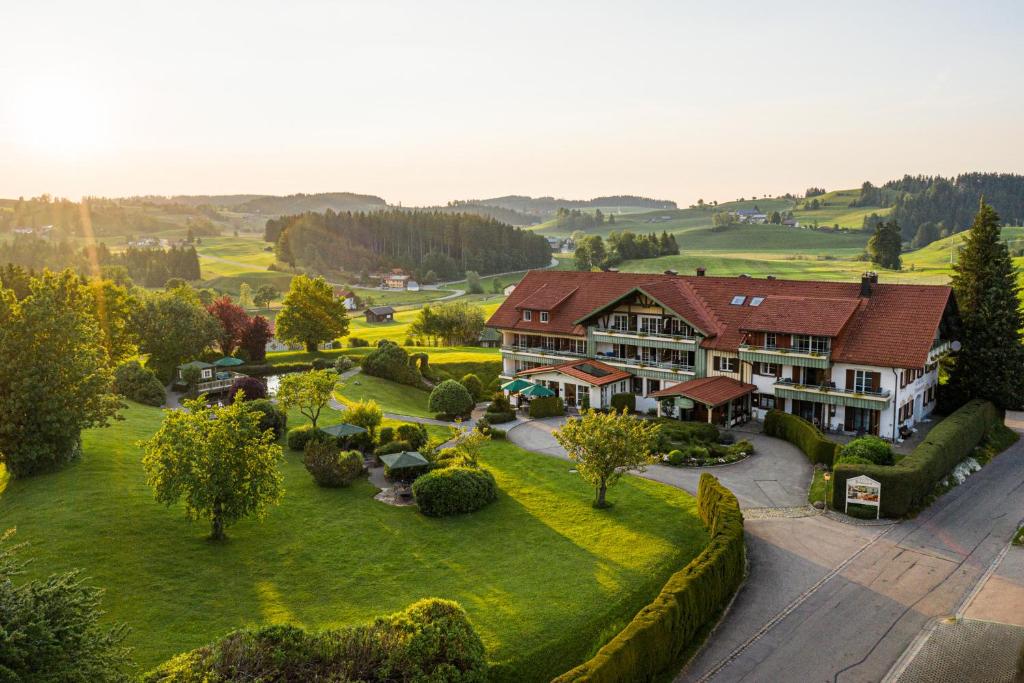 This spa and golf hotel features its own golf course and wellness area with indoor pool. It lies 1.2 mi from Oberstaufen town center and offers free parking.
The spacious rooms at the Hotel Johanneshof have a flat-screen TV and safe. All rooms come with a balcony or terrace and free Wi-Fi is available in all areas.
Guests can play golf for free in Oberstaufen, Wiggensbach, Memmingen, Scheidegg and Lenzfried (one green fee person per night). Free use of local transport and free ski passes are also provided.
The wellness area offers health and spa treatments and a variety of massages. The Johanneshof's gardens feature a waterfall and guests are welcome to relax on the terrace.
Reviewed By Maurice
- Excellent breakfast - Very helpful and friendly staff - a free tea bar - nice spa - beautiful views from the rooms and the hotel in general - pretty cool fish in the gardens - lots of space for worn clothes
2. Hotel Tyrol
Am Kühlen Grund 1, 87534 Oberstaufen, Germany
Overall Ratings
9.0 based on 151 reviews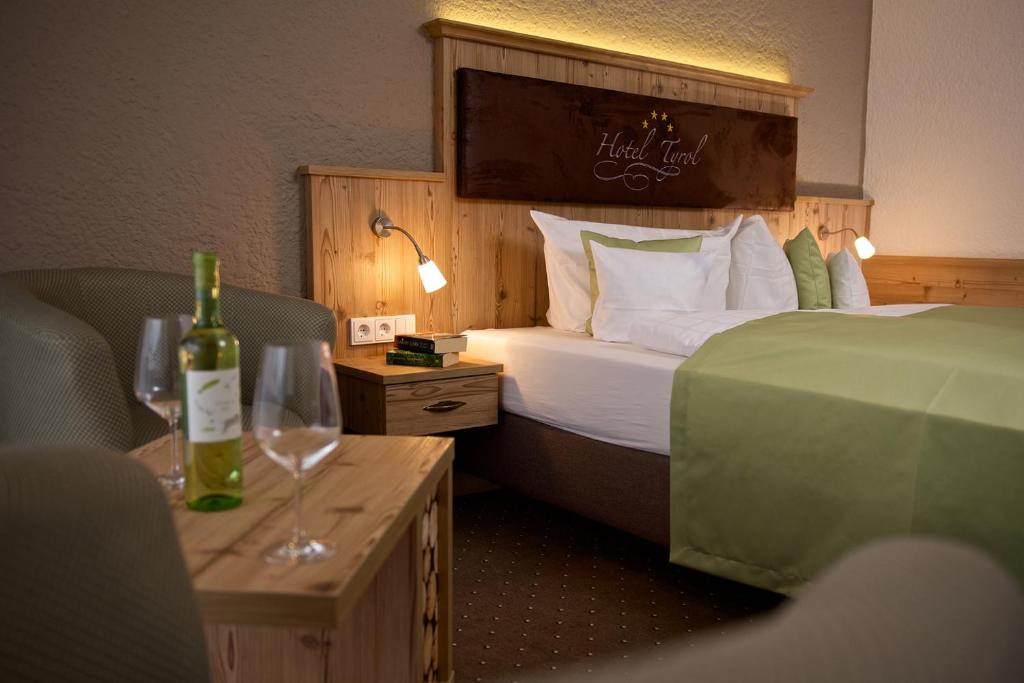 The Hotel Tyrol in Oberstaufen offers an indoor pool and a free breakfast buffet. All rooms and suites have a balcony with wonderful views of the mountains and forests.
A wide range of healthy foods are served each morning at the Tyrol. Bavarian, Swabian and international meals offered in the Hotel Tyrol's restaurant with summer terrace. A cozy Staufen-Stuben lounge is also available.
The Hotel Tyrol offers rental bikes to help you explore the beautiful Oberallgäu countryside. Guests also receive a free ski pass, free parking, and inclusive use of the mountain railway.
A sauna, steam room and infrared cabins are also available at the Hotel Tyrol.
Reviewed By Zwergandy
Das Zimmer war sehr gut und geräumig. Wir hatten ein Schlafzimmer, ein Wohnzimmer und zwei Bäder mit einem großen Balkon. Zwei Badezimmer sind eine echte Option! Die Betten waren mir persönlich zu hart, jedoch ist es von jedem einzelnen abhängig wie man es gewohnt ist. Das Personal war sehr nett und freundlich und es war dort eine Familiäre Atmosphäre. Das Frühstück war sehr gut und liebevoll zubereitet. Ein Schwimmbad ist mit im Haus was wir auch sehr gerne benutzt haben, bei 34 Grad am Tage eine echte Erfrischung. Alles macht einen gepflegten und sauberen Eindruck. Das Hotel hat auch eine sehr gute Lage. Liegt in einer Sackgasse und ist nur einen Steinwurf vom Zentrum entfernt. Ich würde dieses Hotel ganz klar weiterempfehlen.
3. Haubers Naturresort Gutshof
Meerau 37, 87534 Oberstaufen, Germany
Overall Ratings
9.2 based on 62 reviews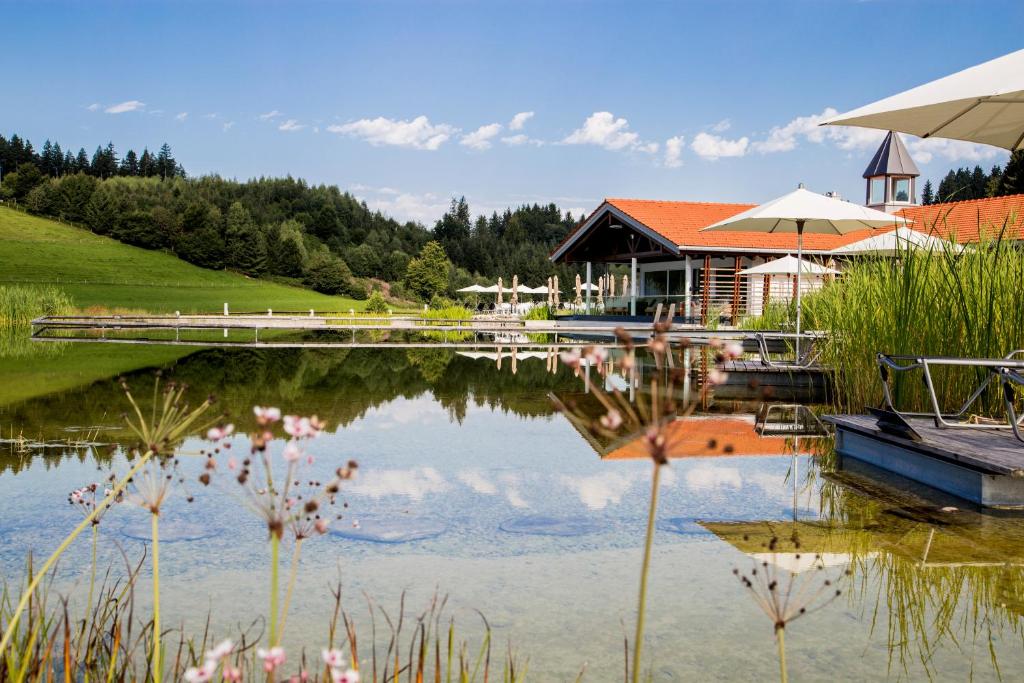 Just 1.2 mi from Oberstaufen, this 4-star-superior resort offers great views of the Alps, private hiking routes, an indoor pool with panoramic views and a large spa with heated outdoor pool. Guests enjoy free access to 5 golf courses.
Only 6.2 mi from the Austrian border, the family-run Haubers Naturresort Gutshof offers modern rooms with free WiFi and a balcony or terrace with panoramic views.
A big breakfast buffet is prepared in Haubers Gutshof's breakfast room or on the panoramic terrace. The hotel also offers experiences such as the mountain breakfast. The traditional Bauernstube restaurant serves regional gourmet food made with fresh products.
Haus am See spa offers massages, beauty treatments, saunas with mountain views, steam bath, infrared cabin and relaxation room. The heated outdoor pool is open all year.
Guests can also simply relax in the lounge with fireplace or in the hammocks, located in the surrounding forest. The hotel also has a fitness area.
In summer guests can take a bath in the privately-owned artificial lake, with 700 square yards of swim area.
Guests receive the Oberstaufen Plus Card which offers unlimited use of the mountain railway, free skiing, free entry to the swimming arena and a discount on the green fee at Oberstaufen Golf Course. There is a cross-country ski trail at the property.
Reviewed By Byland
Das Frühstück war sehr gut, Grosse Auswahl und alles frisch. Das Wellness Angebot, die Lage vom Hotel und das Personal, alles war einfach nur super. Am Sonntag das Frühstück im Schwalbennest, einfach PERFEKT.
4. Hotel Bayerischer Hof
Hochgratstrasse 2, 87534 Oberstaufen, Germany
Overall Ratings
8.1 based on 2 reviews
You're eligible for a Genius discount at Hotel Bayerischer Hof! To save at this property, all you have to do is sign in.
This 4-star hotel is located in the heart of Oberstaufen with beautiful views of the mountainous region of Allgau. Hotel Bayerischer Hof is located right on the Kirchplatz Square, which is a 3-minute walk from the train station.
The hotel and its rooms are decorated with warm colors and with many elements from this region. All rooms feature a flat-screen TV, a modern bathroom and free WiFi access.
The spa center features a 40 feet long swimming pool, a whirl pool, a sauna and a steam bath. In the summer guests can enjoy the sun on the lawn as well as the beautiful view of the nearby mountains. Additionally, the hotel also features a fitness center and offers massages and beauty services.
Hotel's Restaurant Stadlers specializes in regional and Mediterrean cuisine.
You can enjoy live music in the Stadler Bar occasionally. During the day, guests are also welcome to dine and relax at Stadlers Bistro on the summer terrace.
Reviewed By Kristi99
* Great location * WiFi worked fine * Space to work with my laptop * Very good breakfast menu
5. Hotel Adler
Kirchplatz 6, 87534 Oberstaufen, Germany
Overall Ratings
8.3 based on 366 reviews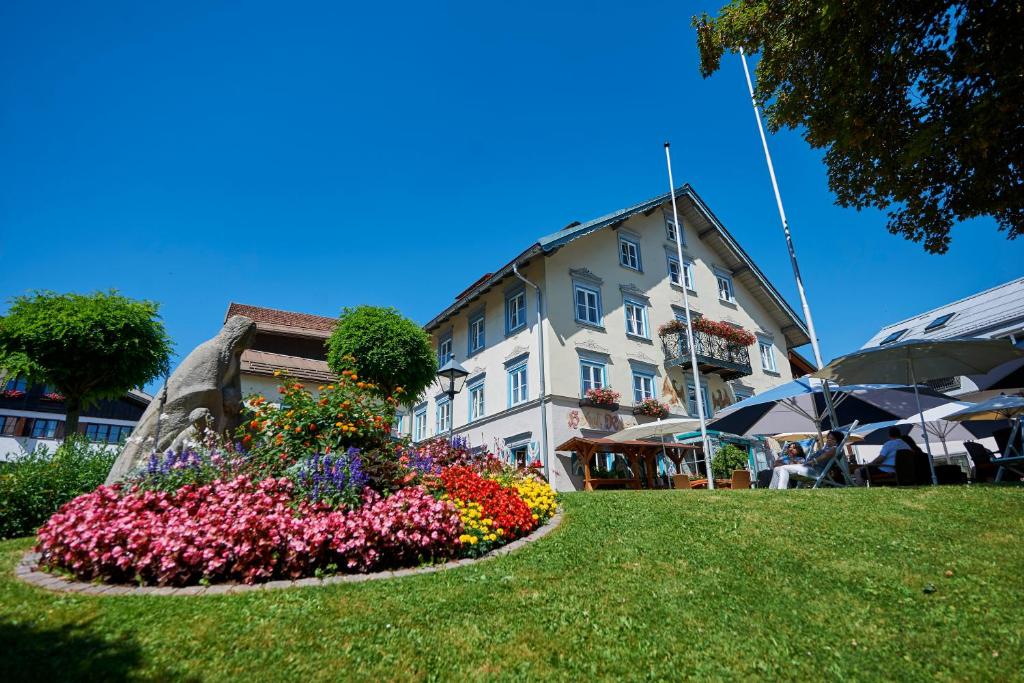 This historic, 4-star hotel lies in the heart of Oberstaufen, just 650 feet from the train station. It offers spacious accommodations, excellent cuisine and free entry to many of the regions sights.
The rooms of the Hotel Adler, which dates from 1574, have been decorated and furnished with a creative flair and are equipped with all the facilities you need for a pleasant stay.
A rich and varied, complimentary breakfast, with organic and healthy options, awaits you each morning, providing a great start to the day.
The traditional, rustic restaurant serves delicious regional specialties and fish dishes, made with fresh, seasonal ingredients in a cozy, informal atmosphere.
During the warmer months, you can enjoy your meals and refreshments outside on the terrace.
Guests are welcome to relax in the sauna area, work out in the fitness room or book one of the large range of massages and health treatments offered.
As a guest of the Adler, you will benefit from free entry to a range of ski lifts, swimming pools, attractions, golf courses and parks. Enjoy the Bavarian country side, and include a visit to Lake Constance, just 19 miles away.
Reviewed By Sylvia
Breakfast excellent, good value for money. Hotel Adler was a good choice. Nice welcome and good recommendations for a walk.
6. Concordia Vitalhotel & SPA
In Pfalzen 8, 87534 Oberstaufen, Germany
Overall Ratings
8.3 based on 667 reviews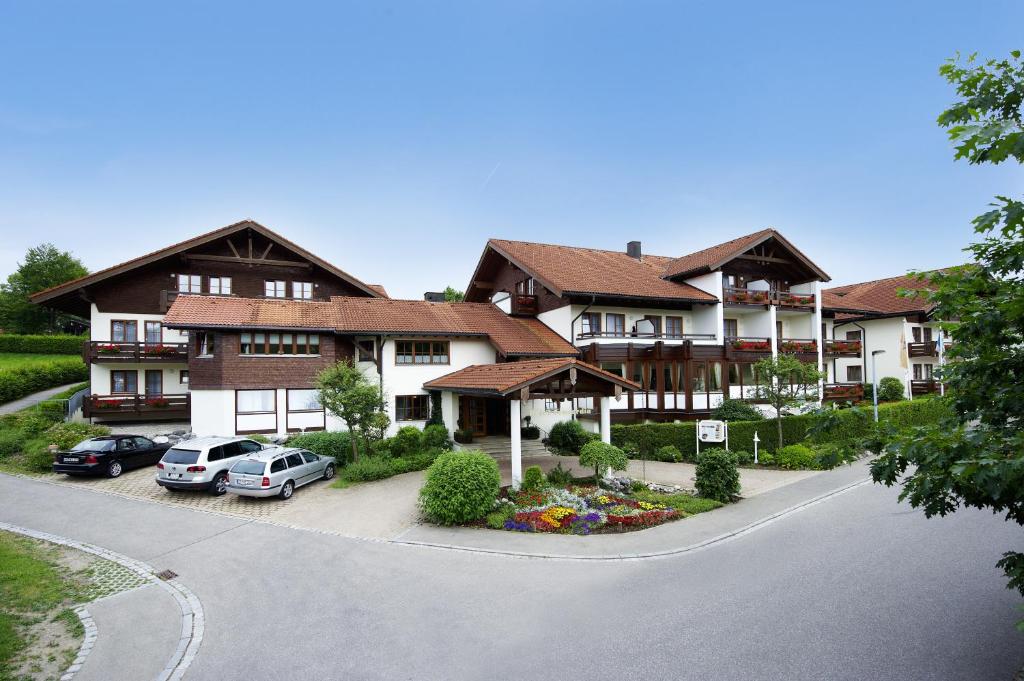 You're eligible for a Genius discount at Concordia Vitalhotel & SPA! To save at this property, all you have to do is sign in.
Located in the renowned spa town of Oberstaufen, in the magnificent Allgäu countryside, this 4-star-superior hotel features a gym, 2 saunas an indoor swimming swimming pool and a steam room.
The rooms and suites of the Concordia Vitalhotel & SPA are furnished in a country-house style. The rooms are spacious and feature either a balcony or terrace.
Relax and pamper yourself in the luxury of the Concordia's spa and beauty center.
Treat all your senses to a romantic candlelit dinner in the cozy atmosphere of the hotel restaurant. Choose from a variety of international or regional specialties, or one of the vegetarian dishes.
The Concordia Vitalhotel & SPA offers you a daily sports and activity program, called Fit for Fun. You may also go on organized hikes, Nordic Walking, as well as downhill or cross-country skiing.
Reviewed By Fabian
Sauna, swimming pool all in great condition, comfy bed Good bikes at the bike rental Nice staff
7. Hotel Hirsch
Kalzhoferstr. 4, 87534 Oberstaufen, Germany
Overall Ratings
8.2 based on 530 reviews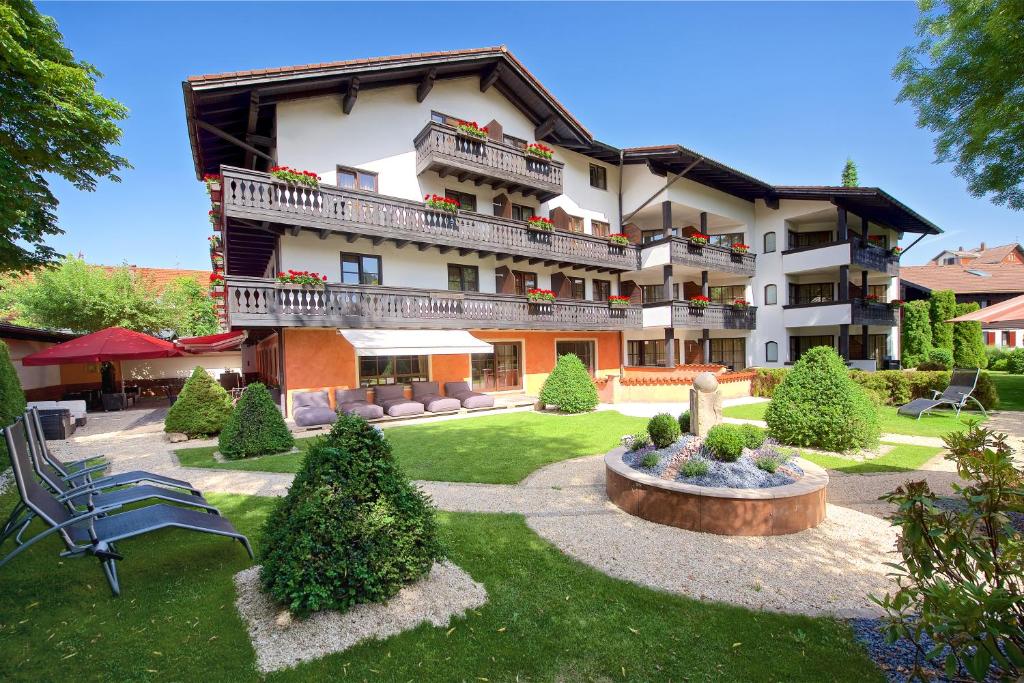 This hotel offers a quiet location near the pedestrian area in the heart of Oberstaufen. It offers physiotherapy, nutritional counseling and crystal salt therapy.
Hotel Hirsch provides spacious rooms with all modern comforts.
Regional Allgäu cuisine is served in the rustic-style Hirsch Taverne.
Guests will receive the Oberstaufen-Plus-card, which offers free public transport, free ski pass and free use of the mountain railways.
Kur-und Wellnesshotel is the perfect base for guests wishing to explore the beautiful countryside of the Oberallgäu region, or the shops and boutiques in Oberstaufen. Golf, hiking, Nordic walking, mountain biking and winter sports are also available nearby.
Reviewed By Melissa
The hotel was clean and comfortable, as well as convenient to everything in Oberstaufen. Breakfast was good.
8. Allgäu Sonne
Stiessberg 1, 87534 Oberstaufen, Germany
Overall Ratings
8.4 based on 414 reviews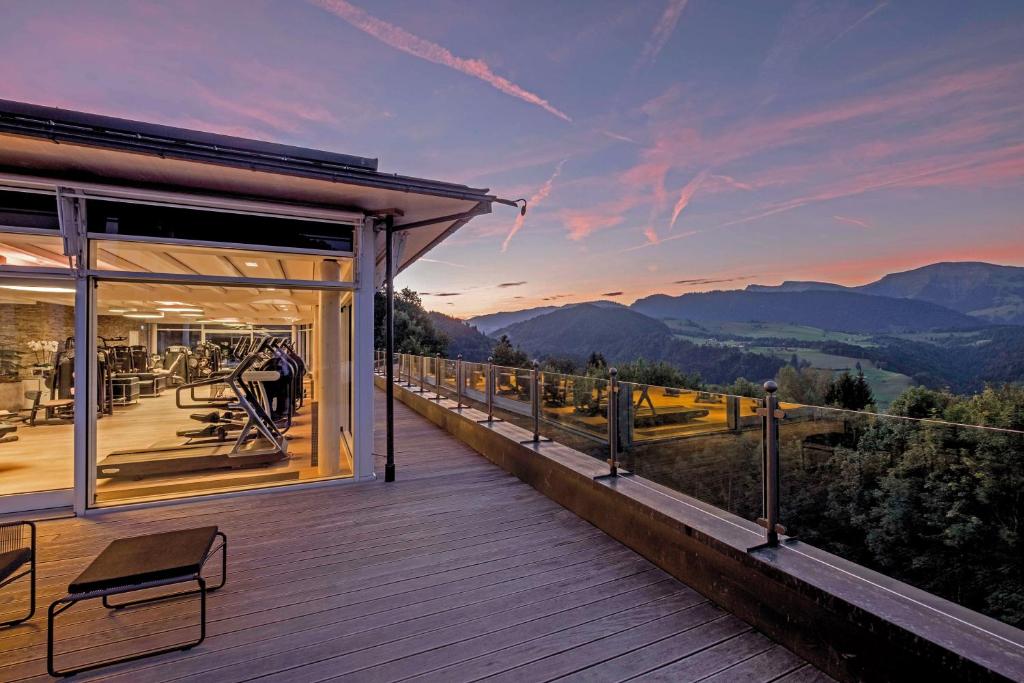 This 5-star hotel features a wellness area with an outdoor and 2 indoor pools, free fitness classes and a panorama entrance hall. It is a 10-minute walk from Oberstaufen town center. Underground and free on-site parking facilities are offered.
The stylish rooms at Allgäu Sonne have a TV, mini-bar and safe, and many have views of the Alps. While the double rooms with balcony are located in the main building, the double rooms without balcony are located in the country house, a short walk from the main building. Free WiFi and free tea and mineral water are provided in the spa.
Wellness facilities include a sauna, steam room and spa tub. The panorama fitness room features modern equipment and excellent views. A wide range of massages, beauty treatments and health programs are also available.
The Allgäu Sonne provides a rich breakfast buffet each morning. Fine regional cuisine is available in the hotel's restaurant. A variety of drinks are served in the Stiessbergstüble pub, which offers live music and dance.
The half-board option includes a gourmet 5-course meal or themed buffet. During the summer, guests can enjoy meals and drinks on the terrace or by the pool.
Guests enjoy a 20% discount at both Golfclub Oberstaufen-Steibis and Golfpark Bregenzerwald.
Reviewed By Jean-paul
Great breakfast, a lot of variation and choice. Tasteful food
9. Lindner Parkhotel & Spa Oberstaufen
Argenstr. 1, 87534 Oberstaufen, Germany
Overall Ratings
8.2 based on 345 reviews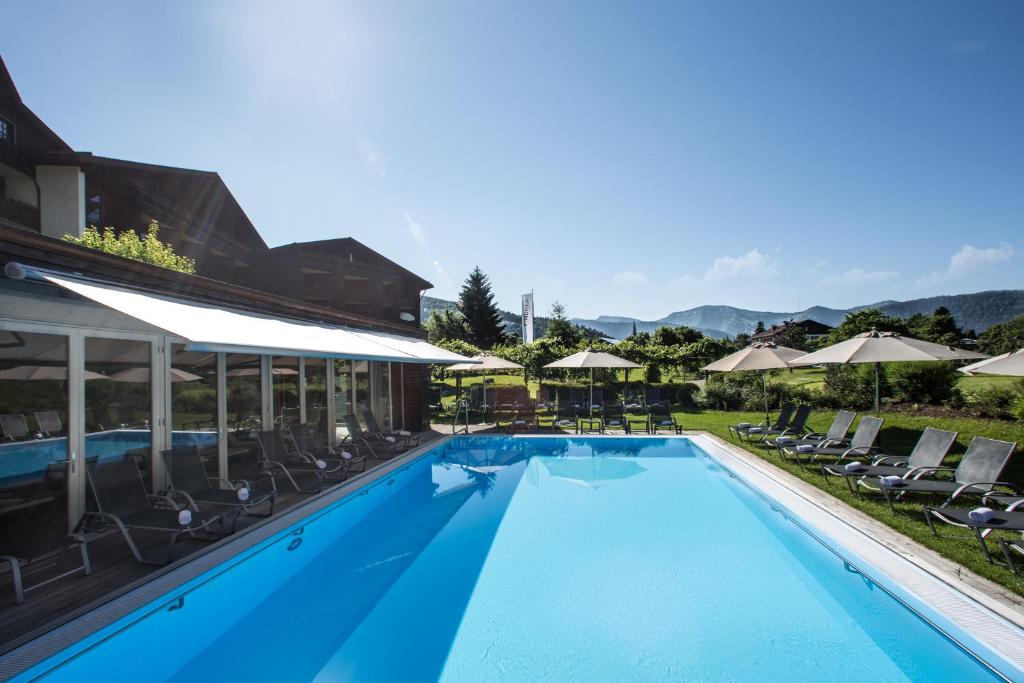 Offering views of the Allgäu Alps, a large spa, and gourmet food, this 4-star Superior hotel stands beside the Staufenpark Gardens, just a 10-minute walk from Oberstaufen Train Station.
The rooms of the Lindner Parkhotel & Spa Oberstaufen offer traditional, cottage-style décor and a balcony or terrace. Guests enjoy views of the Allgäu Alps.
The hotel's spa includes a hot tub area and a gym. Beauty, health, and fitness options are also on offer.
The Parkhotel's restaurant serves varied buffets, 5-course dinners, and health food options. Other facilities include the beer garden with panoramic terrace and the wine lounge.
A shuttle to and from Oberstaufen Train Station can be arranged for a surcharge. The hotel also has an underground parking garage.
Reviewed By Ocdutchy
Friendly staff and excellent restaurant. Walking distance to town.
10. Dein Engel
Buflings 3, 87534 Oberstaufen, Germany
Overall Ratings
8.5 based on 38 reviews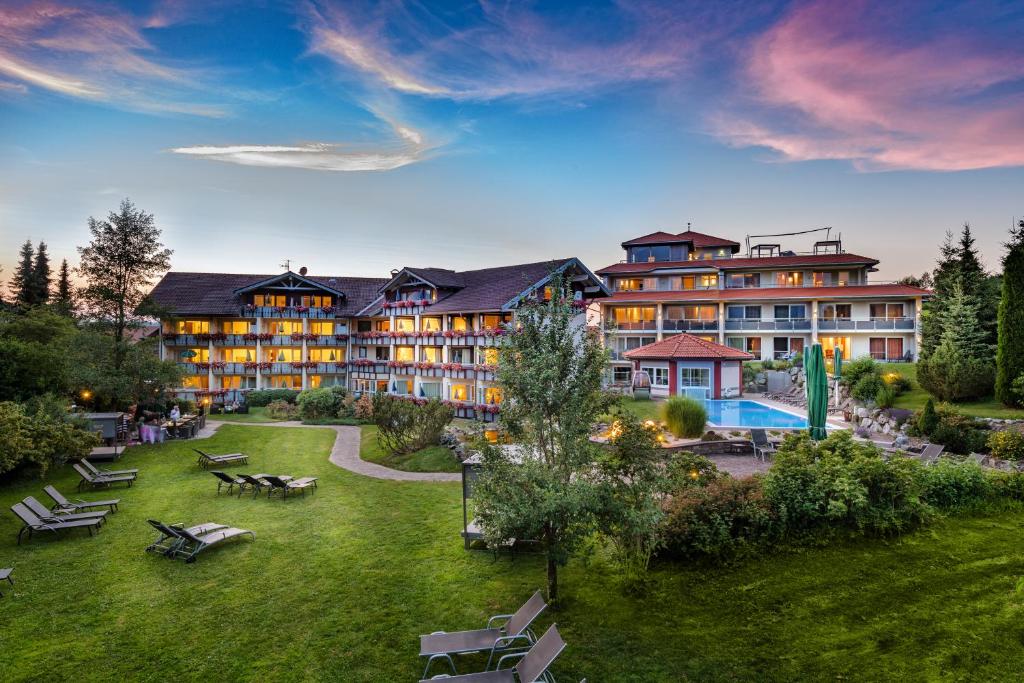 Located in the spa town of Oberstaufen, this traditional hotel is 1.2 mi from Oberstaufen Train Station. It offers free Wi-Fi, sauna, an outdoor heated swimming pool and picturesque views of the Allgäu Mountains.
All rooms at the Dein Engel combine a modern and rustic design, and feature a satellite TV, mini-bar, telephone, radio, and bathrobe. Some rooms also offer a balcony.
A buffet breakfast is served every morning at Dein Engel. The traditional restaurant has a winter garden and serves a selection of home-made cakes and specialties from the Swabian region. In the evenings guests can relax with a drink at the hotel bar.
Dein Engel's spa invites guests to enjoy the steam bath, massage rooms and hot tub. A fitness center, tennis court, bowling alley and sun terrace are also available. This hotel also has a conference room.
The surrounding mountains and countryside are ideal for walking, cycling and skiing, with cars, bicycles and ski equipment available for hire at Dein Engel. Oberstaufen town center can be reached in 10 minutes by foot or via the comfortable shuttle service.
Reviewed By Christina
Sehr großes und abwechslungsreiches Frühstück. Obwohl das Hotel gut besucht war. Hat man von den anderen Gästen nicht viel gesehen (indoor/Outdoor Pool, Sauna).